Summary
The vampire facelift and vampire facial are treatments that involve drawing the patient's blood, processing it to extract the platelet rich plasma (PRP)  which is then applied topically (Vampire facial) or injected (Vampire lift) into the patient's skin. This enhances, repairs and rejuvenates the injected tissue.
Length of Procedure
30-90 minutes - depends on amount of areas being treated
Cost
$799 for single treatment. $1,999 for three treatments
Recovery Time
Can resume normal activities after 24 hours
Where
SpaMedica, Toronto, ON
Alternative Names
Vampire facial, vampire facelift
Before & After Gallery
Are You a Candidate?
If you are looking for a nonsurgical procedure that can erase wrinkles, restore shape, improve tone and texture, and rejuvenates new and younger tissue, then look no further then vampire facelift or vampire facial treatments from SpaMedica Toronto.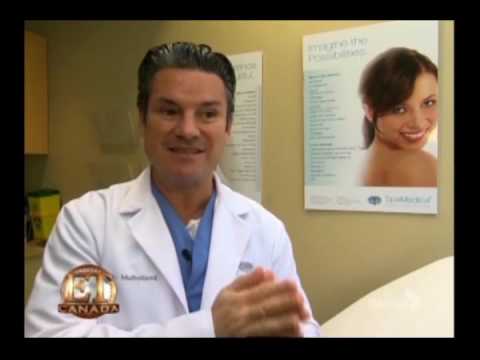 Are You a Candidate?
If you are pregnant you should not have PRP treatments.
PRP (Platelet Rich Plasma) Facial
PRP, Platelet Rich Plasma, is popularly known in the media and by the lay public as the "Vampire lift" (when injected), or the "Vampire facial" when applied topically and combined with fractional laser treatments. SpaMedica offers both techniques of anti-aging and skin rejuvenation in Toronto.
How PRP Treatment Is Performed
Patients have their blood drawn, as if they are getting a blood test from an arm vein. Prior to drawing the blood, a topical anesthetic cream may be used on the skin to minimize the discomfort of the small needle and then blood is drawn into a special vile.
The vial is then placed in a special centrifuge to be spun down and prepared by experienced SpaMedica technicians. Once the blood vial has been spun, the various components for the blood have been separated out into layers.
Various fragments of the blood are then separated and removed, including the platelet rich segment, which contains the stem cells and platelets, which are special blood cells important in the repair of damaged vessels and clotting.
Platelet Rich Plasma (PRP) tube, following the draw, the blood sample is spun in a centrifuge producing the clear yellow liquid at the top which contains the platelet rich plasma (platelets, growth and stimulation factors and stem cells) and then the white separation gel which keeps the red blood cell fragments at the bottom separate from the PRP.
The platelet rich plasma also contains many other growth factors important is new tissue regeneration including:
Epidermal growth factor

TGF beta

Neovascular and angiogenic growth factors

Undifferentiated stem cells
The platelet cells, stem cells and the various growth factors once separated and placed in a sterile syringe can applied topically (Vampire facial) or injected (Vampire lift) into the skin, or dermis or under the skin and can provide enhanced tissue, repair and rejuvenate features and tissue.
PRP Skin Rejuvenation And Anti-Aging
PRP can be applied topically after fractionating treatments for the skin. The mechanical, laser or RF stimulates the skin with new collagen elastin after creating a fractional defect in the skin. With the fractional defect there is a direct communication with cells within the skin and just under the skin following topical application of PRP and is an ideal serum to apply after fractional resurfacing.
The Fractional injury creates channels in the skin, scalp or vaginal mucosa and the PRP, which would normally be blocked by intact skin, is allowed to flow through the channels and gain direct access to the deeper cells and levels of the "under skin". The Fractional injury (laser or micro needling) creates the inflammation in the skin that is then potentiated and harnessed by the PRP to augment and hasten the wound healing response.
Mechanical Micro needling is performed under local anesthesia
After fractional resurfacing the PRP can be applied topically for immediate penetration to the skin where the various growth factors and stem cells of the platelet rich plasma stimulate new collagen elastin and ground substances to rejuvenate significantly the skin over and above what fractional treatments can do alone. So the Fractional lasers provide skin tightening and wrinkle reduction alone and this response is amplified and enhanced by topical PRP.
Injectable PRP (Vampire Lift)
PRP, with the platelets, stem cells and growth factors can also be injected just under the skin and in the skin dermis itself to stimulate the sub-dermal space with new collagen elastin and ground substances (also known as the Vampire Lift).
This injectable PRP will help improve the appearance of texture, fine lines and wrinkles and provides a natural way for the body to stimulate self into a more youthful appearance. It can be performed on its own, or in conjunction with topical application.
Injectable (Vampire facial and lift) anti-aging treatments after fractional micro needling require 24 hours to recover from the minor redness and bruising.
For topical and injectable patients performed together with fractional Laser resurfacing or Fractional radio frequency resurfacing more downtime is required related to the fractional resurfacing portion of the procedure. The fractional laser and fractional radio frequency resurfacing and PRP patients need 3-5 days of downtime for moderate resurfacing parameters and, for more aggressive treatments, 7-10 days of downtime.
There are few side effects associated with Platelet Rich Plasma (PRP) treatment. After treatment you can expect some bruising, swelling and redness at the injection sites. You may also experience some tenderness and pain at the injection sites. However, any side effects should dissipate within a few days following the procedure.
Results After Vampire Facial
Patients can expect a significant improvement in skin quality. Topical anti-aging PRP (Vampire Facial) when combined with fractional micro needling, radio frequency, CO2 and Erbium laser can have significant results.
The fractional mechanical treatment with the needle on laser devices provides rejuvenation themselves, but the additive benefit and the growth factors and stem cells significantly improve the quality of the elastin collagen and ground substances produced.
Generally, a single treatment protocol is deployed and then micro needling is performed once every four months with topical and injectable PRP as an adjunct.
Results After Vampire Lift
Expect an noticeable improvement in skin quality and wrinkle reduction when combined with fractional resurfacing and topical PRP. Injectable anti-aging (Vampire Lift) can provide significant sub-dermal improvements in patients with thin skin, diffuse wrinkles and sun damage and elastosis, or loss of elastin.
Topical can be combined with Fractional laser and RF resurfacing and injectable under deep lines and wrinkled skin to amplify the clinical results and improvements.
The PRP treatment can be combined with Soft Tissue Fillers and Botox, in addition to fractional lasers and photo rejuvenation and High fluence Low Level Light therapy to maximize your aesthetic outcome.
The benefits of the PRP facelift are
Little to no downtime compared to surgical alternatives.

No incisions necessary.
Topical PRP anti-aging (Vampire Facial) is generally combined with micro needling, micro radio frequency needling, Fractional Radio frequency resurfacing and/or Fractional CO2 and Erbium resurfacing. The PRP is an additional $500 value over the normal fractional treatment program. The Medical skin care products and low-level light therapy can be additional costs in the comprehensive program
The Injectable PRP (Vampire Lift) anti-aging program is priced per treatment, at $500 per treatment. $500 is the cost of the PRP draw and sub-dermal injection of PRP. Combined program of topical, micro needling and/or Fractional Radio frequency resurfacing and the PRP injectable is $750. Topical skin care products suited to the patients needs and low-level light therapy other energy-based devices are additional costs than can be purchased for $1,500.