Summary
Profound is a skin tightening treatment that is minimally invasive, improving loss of volume around the mouth, cheeks, neck, and sagging skin.
Length of Procedure
45-90 minutes
Before & After Gallery
Where
SpaMedica Clinic, Toronto ON
Anesthesia
Local anesthetic
Who
Doctor or registered nurse
Alternative Names
Profound RF
Are You a Candidate?
Profound is the ideal treatment for those seeking a non-invasive skin tightening procedure.  Candidates for Profound include those with sagging facial skin, deep smile lines, marionette lines, and loss of volume around the mouth and cheeks.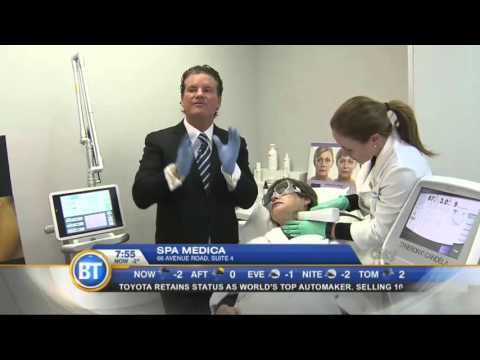 Are You a Candidate?
The Profound Non Surgical Facelift is a new non-invasive device and treatment procedure that involves the use of precise, thermally regulated, controlled bipolar radio frequency needles that are inserted into the lax skin of the face, neck, brow and body areas to induce tightening and lifting. The Profound non-surgical facelift is performed as an outpatient, simply, under local anesthesia and without skin excision.
Non-Surgical Facelift patients that undergo the Profound Non-Surgical skin tightening procedure are recommended to undergo a very basic maintenance program to "protect their investment". The maintenance is usually quite simple. A non-surgical, non-invasive bulk heating radio frequency thermal stimulation of the skin is performed once every 2-3 months to maintain the Profound lift effect. Maintenance using the non ablative bulking RF such as the FORMA, or Venus Freeze performed 4 times a year can help prolong and protect your Profound non surgical Facelift.  
Just as the name suggests, skin tightening procedure offers profound results with very little chance of side-effects or complications.  Swelling and bruising may last several days, and most choose to return to work after a few days of recovery time.
Patients who undergo the Profound Non Surgical Facelift technique can expect a significant, or moderate, but noticeable tightening and elevation following the Profound Facelift technique. Because this is performed with extreme thermal and pulse duration control, virtually every patient will notice some tightening. The amount of lifting and tightening will be dependent upon the amount of laxity and loss of collagen elastin that had accumulated prior to the procedure, but there is a very high patient satisfaction index with this technique, with properly selected patients. In general, tightening and elevation of 30%, 40% or even 50% can be achieved.
This results of this procedure are longer lasting compared to other treatments.  The Profound facelift device is manufactured by one of the leading laser manufacturers, Syneron Candela and it represents the cutting edge (non-excisional cutting edge) of the non-surgical facelift techniques and procedures. Dr. Mulholland has worked together with Syneron for many years, developing many of their non-surgical devices and teaches the Profound non-surgical facelift to physicians across the Unites States and Canada.
The results can be extended by adding additional techniques such as colour correction IPL (Intense Pulsed Light) photofacials, topical energy-based treatments for wrinkles, using fractional devices, such as the eMatrix, Fractora or the "Fraxel like" fractional resurfacing devices, which can be performed at the same time. Even Botox Injectable, Kybella Injectable and soft tissue fillers, such as Juvederm Voluma can all be performed synchronously in the first few days or same time as the Profound Non-Surgical Facelift to extend and enhance results.
In general, a Profound Non Surgical Facelift and skin tightening procedure performed itself, without any additional adjunctive techniques will cost in the range $2,999.  Having a comprehensive approach to non-surgical face lifting gives you the ability to achieve almost facelift-like results without any of the scars or risks and recovery of open facelift surgery. Even though Dr. Mulholland has one of the busiest facelift practices in Canada, he still understands that many patients do not want a facelift and has been able to position excellent non-surgical opportunities, such as the Profound Non-Surgical Facelift, in the SpaMedica service offering.
Non-Surgical Facelift patients generally choose Dr. Mulholland and SpaMedica for the non-surgical facelift techniques such as the Profound Non-Surgical Facelift and Skin tightening procedure because of SpaMedica's cutting edge position and industry leading ability to bring the best possible combination of technologies to your aging face. In addition, his very pleasant, well-trained and extremely experienced staff make the whole service experience quite pleasurable. The knowledgeable staff will also be able to educate how to protect and maintain one's non-surgical lift effect and the vast majority of SpaMedica patients who visit the medical spa return over and over again to protect their investment and seek out their services.