Summary
Non-surgical techniques are used to achieve improvement of facial features without the use of invasive surgical procedures.
Length of Procedure
30-40 minutes per area
Recovery Time
3-5 days maximum
Before & After Gallery
Where
SpaMedica Clinic in Toronto, ON
Anesthesia
Local topical anesthetic
Who
Registered nurse or doctor
Are You a Candidate?
Healthy individuals who have droopiness and laxity of the soft tissues of their neck, jowl, face, eyes and/or brow and desire an elevation and lift effect without the risk of a more scalpel based excisional surgical procedure.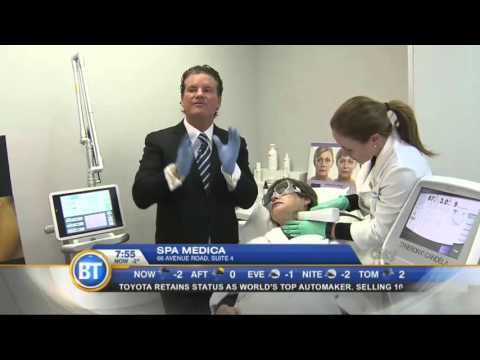 Are You a Candidate?
Keeping the treatment area very clean and well moisturized will greatly minimize the chance of any damage occurring to your pores or skin cells.
A non-surgical facelift is the utilization of laser and energy devices to elevate and reposition the brow, cheek, jowl and neck without a scalpel or excisional techniques. A non surgical facelift involves a series of treatments using fractional Radio frequency (RF) and fractional laser devices for superficial textural wrinkle reduction and non-ablative RF heating devices for tightening and repositioning of the facial tissues.
All the laser and energy devices selected by Dr. Mulholland and implemented in the SpaMedica non-surgical facelift program have minimal, if any, down time. The Profound treatment has the most downtime, with 3-5 days of swelling, but the intense pulsed light photo facial may result in darkening of the brow and discoloration, which subsequently flakes off.
The results of your non-surgical facelift, with 3D therapy for the deflation, descent and deterioration can be quite long-lasting, but maintenance is generally recommended to perpetuate the effects of the actual non-surgical facelift. In general, patients will present for a single, multiple-applicator maintenance session once every three to four months. Three to four times a year can help maintain the elevated collagen skin content and skin tightness and wrinkle reduction, as well as preserving the 3-7 year younger non-surgical facelift appearance indefinitely.
The fractional and laser radio frequency devices may create some redness and swelling that usually subside in several days, but most patients can return to work the following day with the excuse that they had some sun damage or pre-cancers treated by their dermatologist with a laser system.  
At the completion of your SpaMedica non-surgical facelift program, you can expect to have tightening and elevation of the tissues of the brow, cheek, eye region, jowl and neck, with smoothening of the texture, lessening of wrinkles, diminishment of brown, aging discoloration and broken capillaries. Most non surgical facelift Toronto patients can expect to look between 3-7 years younger following their combination therapeutic non-surgical facelift program.
Dr. Stephen Mulholland and SpaMedica are dedicated to providing our patients with the highest level of care, using the most advanced cosmetic face lift procedures. Our SpaMedica surgical treatment team will discuss and educate you on your treatment options and will design the best possible face lift treatment plan for you.
In general, additional therapeutic and "protect-your-investment" benefit is achieved by the use of Botox® Injectables twice a year to continue to treat the strong depressive muscle activity in the face that will want to pull the soft tissue back down and, as well, this Botox® Injectables should be maintained twice yearly, for muscles causing excessive wrinkling. The maintenance of volume for the deflation using Juvéderm® Voluma™ or long-lasting soft tissue fillers, using a micro-cannula technique approximately once every 12- 18 months. Dr. Mulholland will often combine the Skin tightening and contraction of FaceTite with the Fractional wrinkle reduction capability of the Fractora. The FaceTite combined with the Profound or the Fractora make for a powerful 1-2 punch in the non-surgical facelift program.
The combined non surgical facelift program will generally cost $3,000 to $4,500, depending on the addition of Botox® Injectables and soft-tissue fillers to your laser and energy device treatments. This is approximately one-third to a half of the cost of a more surgical facelift procedure and generally can achieve significant facial rejuvenation as a result.
By choosing Dr. Mulholland and SpaMedica for your Profound non surgical facelift, Toronto non surgical facelift patients will be getting a center with the most current and high-tech combination laser and energy devices. Our skilled medical estheticians and registered nurses assisting this procedure have been directly trained under the tutelage of Dr. Mulholland.