Summary
Sculptra® is an injectable dermal soft tissue filler used at SpaMedica Toronto to smooth out facial wrinkles and folds. It replaces lost collagen, which can help provide a refined, more youthful looking appearance. Sculptra Toronto, like its cousin Radiesse, is another of the Bio-stimulatory-type injectable soft tissue fillers and dermal fillers. Sculptra®, unlike a soft tissue Hylauronic sugar gel, such as Juvéderm®, Restylane® or Perlane®, does not merely occupy space, but actually stimulates the patient's own collagen response.
Are You a Candidate?
Candidates for a Sculptra® procdeure are those individuals who have lost volume and shape and have undergone deflation with age, or who have deep lines, wrinkles, irregularities or contour abnormalities that require soft tissue replacement. Good Sculptra® Toronto candidates are those individuals that do not want to have their procedure performed with fat grafting or HA Gels, such as Juvederm, Restylane, Perlane or Teosyal and want to avoid surgical excision as a primary mode of improvement.
Warning
: DOMDocument::loadHTMLFile(): htmlParseEntityRef: no name in http://www.youtube.com/watch?v=cBwksj4KwpY, line: 716 in
/data01/web/spamedica.com/htdocs/wp-content/themes/spamedica/template-parts/video.php
on line
15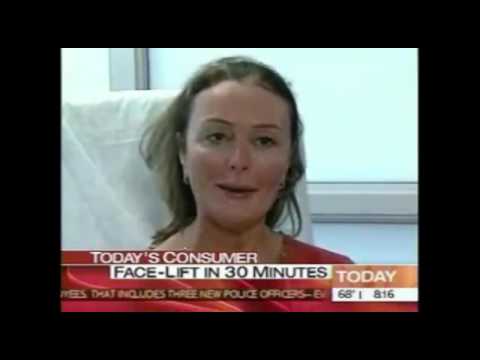 Are You a Candidate?
Good candidates for Sculptra® injections are accepting of a small degree of risk for bruising, lumps and slight asymmetry, which would require enhancement therapy. The contraindications for Sculptra® injection would be an allergic reaction to Sculptra®-like products or inflammatory lesions, infection or skin cancer in the area of injection. No skin test or allergy test is required for Sculptra® and often Sculptra® is combined with BOTOX Injectable, fractional lasers, IPL PhotoFacial and other soft tissue filler products such as Juvéderm®, Restylane®, Perlane® or even fat grafting.
Figure 5. Sculptra Injection Sites: The Facial areas highlighted in grey are commonly injected with Sculptra.
Sculptra is a polymer that is a molecule of repeating units of polygalactic acid – a sugar itself. Polygalactic acid is the same substance used in dissolvable suture material and is used all the time in surgery.
Figure 1. Sculptra comes as a freeze dried powder. It is mixed with saline and the local anesthesia lidocaine, prior to injection.
With Sculptra, the small, microscopic polymers of molecules of polygalactic acid are dissolved and then injected. Following the Sculptra injection the polygalactic acid molecules establish a sub-clinical (not noticeable) response that stimulates the patient's own collagen formation around it. Thus, it is the patient's collagen that provides the long term aesthetic contour and wrinkle improvement rather than the Sculptra® itself. Over time, the Sculptra® is replaced by the patient's own collagen.
Figure 2. How Sculptra affects the Skin. As we age our skin breaks down our collagen and elastin resulting in loss of support and elasticity leading to wrinkles and laxity.
Sculptra Toronto, like the other Bio-stimulatory product Radiesse®, and like Juvéderm®, Restylane® and Perlane®, is injected with Dr. Mulholland's pioneering work, the microcannula. The microcannula has a blunt-nosed tip with no sharp edges, greatly minimizing the risk of bruising or intravascular injection – that is, injecting the Sculptra® into small veins and arteries which results in the product traveling where it should not go.
Figure 3. Sculptra is placed in the soft tissue using a blunt microcannula. The microscopic polygalactic acid (white above) stimulates new collagen formation with, over time softens wrinkles and plumps up defects and depressions.
Sculptra® is used in conjunction with many other procedures at SpaMedica to provide improvement in thinning skin, fine lines, volume and contour, both on the face, off the face, neck and back of the hand.
How is Sculptra® Injectable performed and Where is Sculptra Injected?
Sculptra® is mixed with a local anesthesia and saline in a small syringe. The syringe is attached to a small micro-cannula. A micro-cannula is a blunt-nosed needle with no sharp edges. The microcannula is then introduced under the skin and the areas to be improved – deep smile lines, marionette lines, other deep furrows or wrinkles, as well as loss of volume shape and contour – are then injected with the Sculptra®. Sculptra® is injected in small soft tissue toothpick packets throughout the deep soft tissue, minimizing the risk of large injection irregularities or the dreaded "filler face". You are relying on the aesthetic artistry and expertise of the injector. Hence, SpaMedica, Dr. Mulholland and his team of injectors are highly sought after for their artistry and experience in the use of Sculptra and other Soft tissue Fillers and Dermal Fillers.
Figure 4. Sculptra is placed under the skin using a safe, less traumatic blunt microcannula. The microscopic Polygalactic Acid particles stimulate collagen formation which, over time, smoothens out wrinkles and defects.
What kind of anesthetic is used during a Sculptra® procedure?
Sculptra® is mixed with a lidocaine, a local anesthesia and is injected at the same time as the Sculptra® treatment. The use of local anesthesia simultaneously with a microcannula makes the Sculptra® injections very well-tolerated.
Is the Sculptra® treatment painful?
Sculptra® is injected with a microcannula technique and Sculptra® is mixed with a local anesthesia. Thus, the Sculptra® injection is very comfortable and well-tolerated.
How long does the Sculptra® injection take?
A Sculptra® injection may take anywhere from 15 minutes to 60 minutes. The duration depends upon the number of Sculptra® syringes injected, the number of ancillary soft tissue fillers used in conjunction with Sculptra® and the areas injected. In general, soft tissue filler and dermal filler patients should expect a one-hour treatment time from the time of greeting to the time of completion. Following the injection, allot for approximately ten minutes for ice compression.
As Sculptra® is injected with a microcannula technique, generally deep in the soft tissue to be corrected. Sculptra side effects include a little bruising and only a modest degree of swelling. Most Sculptra Toronto patients can return to work the following day. The more product injected, however, increases the probability of a modest to minor degree of bruising and swelling and, thus, one should anticipate, with larger-volume injections, taking one to two days off work or social activities.
In order to minimize the Sculptra side effects risk of bruising and excessive swelling, it is wise, three weeks prior to treatment, to stay off aspirin, unless it's medically indicated, or non-steroidal anti-inflammatories. In addition, some patients find the use of bromelain or arnica montana helps decrease the Sculptra side effects of bruising. These products can be purchased at any natural foods store.
Most patients who are soft tissue filler and dermal filler patients at SpaMedica and undergo soft tissue injectables with products like Sculptra® can expect an excellent result. Whether it's correcting small lines, wrinkles or furrows or shaping the face, the injection specialists at SpaMedica – Dr. Mulholland, the other plastic surgeons, dermatologists, injection nurses – all have multiple years of injection experience. They have all been personally trained by Dr. Mulholland to achieve the kind of aesthetic results and contours you can see in the before-and-after photos and on the TV shows Dr. Mulholland has performed these techniques.
Figure 6. Scultra Before After. Long term Sculptra injection patient, with reduction in fine lines, wrinkles and improvement in facial contour and shape.
SpaMedica Sculptra Toronto patients are very happy with their restoration and improvement in lines, furrows, wrinkles, volume, shape and contour. Dr. Mulholland and SpaMedica retain well over 80% to 85% of their patients year in-year out as they know they are getting the highest quality of injector with the greatest degree of artistry for a very natural improvement in aesthetic contour and shape.
Sculptra®, being a Bio-stimulatory agent, sometimes requires a second injection or third injection some months later to achieve the desired collagen stimulation result. This, however, is rare. Often Sculptra® is combined with other products such as Botox Injectable, fractional lasers, IPL PhotoFacial and Juvederm to achieve a one-time volume, shape and contour and smoothness that will last one or more years. Over time, however, different enzymes in the skin and soft tissue, such as collagenases and Hyaluronidases, will break down the collagen produced around the Sculptra®. Maintenance treatments, will be required every one to three years.
In general, soft tissue filler and dermal filler injections are by the syringe. Each syringe of Sculptra® costs approximately $750, but the more syringes you inject, the less it costs you per syringe. As SpaMedica is one of Toronto's and Canada's largest injection centres, we achieve good pricing from manufacturers. These beneficial volume prices are passed on to our patients, as the more syringes you inject, the less it costs you per syringe.
By choosing Dr. Mulholland and his expert injectors at SpaMedica, you are making the conscious decision to have your facial or non-facial areas injected by some of Canada's most experienced and artistic injectors. Not only will safety be paramount, but aesthetic injection artistry results in the most natural and youthful-looking appearance that you can achieve. There are many centres that inject Sculptra® and other soft tissue fillers, but only the combined injection experience at SpaMedica is one of Toronto's and Canada's top injection centres.
To schedule a Sculptra® soft tissue filler injection consultation, simply call 877-712-8367 or fill out consult request form and a SpaMedica representative will respond promptly. Patients will need to upload 3 photos of Dr. Mulholland to review. We look forward to seeing you to begin your dermal filler Sculptra treatment.