Summary
Perlane is a soft tissue dermal filler used for facial rejuvenation.  At SpaMedica Toronto, we use it to define facial contours, smooth wrinkles, and soften facial lines. Perlane is another of the hyaluronic acid "sugar gel" family. Perlane® is made by the same manufacturer as Restylane®. Perlane® is a larger, more highly-cross-linked material than the smaller Restylane and, like Juvéderm® Voluma™, lasts much longer. At SpaMedica, Perlane® is used for a soft tissue volumization in areas where Juvéderm® Ultra Plus™ and Juvéderm® Voluma™ would also be deployed. Some patients tolerate or prefer Juvéderm® Voluma™ and others Perlane®. The specific product deployed in your soft tissue revitalization and volumization will be made with your SpaMedica injection expert during your consultation.
Are You a Candidate?
Candidates for Perlane® injections are individuals that have lost some modest volume and proportion of their face or back of their hands.Candidates also include those individuals who are highly-animated and have moderate lines and furrows. A good candidate for Perlane® is realistic about the type of youth, volume and shape that can be achieved with a simple soft tissue filler. Good candidates will undergo combination therapy at SpaMedica with BOTOX Injectable, fractional lasers and IPL photofacial colour correction and lasers.
Contraindications to Perlane® injections would be allergic reaction to Perlane® in the past. This is exceedingly rare and usually due to the cross-linking material rather than the Perlane® itself. Other contraindications would be patients who might be pregnant or have areas of inflammation, infection or skin cancer in the area of injection.
Warning
: DOMDocument::loadHTMLFile(): htmlParseEntityRef: no name in http://www.youtube.com/watch?v=cBwksj4KwpY, line: 716 in
/data01/web/spamedica.com/htdocs/wp-content/themes/spamedica/template-parts/video.php
on line
15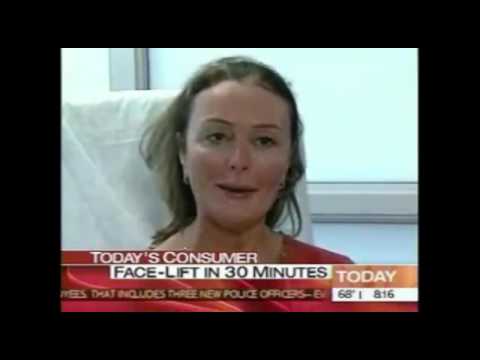 Are You a Candidate?
How is Perlane® injected?
Perlane filler comes in a variety of product types. Perlane® is the largest and most highly-cross-linked of the Perlane® family and it will last up to two years. Perlane® is often used for large-volume contour restorations such as the temporal hollow, cheek arch and cheekbone, under the eye and jawline. In addition, Perlane® may be used in the lips and sometimes even to contour the nose. The injection is performed with a small, blunt micro-cannula. The micro-cannula injection technique has been pioneered by Dr. Mulholland. He has taught physicians and injection experts worldwide on his blunt, micro-cannula Perlane® lift techniques. All injection specialists at SpaMedica are highly-trained with years and years of soft-tissue filler injection experience. Some of Toronto's most respected dermatologists, plastic surgeons and nurses work here at SpaMedica performing Perlane filler injections. The blunt micro-cannula is introduced under the skin. Most injections are performed along the surface of the bone, when shaping the face, or directly under deep lines and furrows. Perlane®, as well as its sister products Perlane® Ultra Plus™ and Perlane® Plus™, have lidocaine or local anesthetic already mixed in. Thus, while the injection is proceeding, anesthesia is also being instilled.
A. Perlane filler gel being release from a microcannula and B. Being expelled out of a traditional sharp need
Is the Perlane® injection painful?
The Perlane® products are mixed with xylocaine and local anesthesia. As such, they are very comfortable and tolerable procedures.
How long does the Perlane® injection take?
The Perlane® injection is often combined with other soft tissue filler products such a Juvederm Voluma and Restylane. The procedure takes approximately 15 to 45 minutes. This depends on the amount of product injected and the areas it is injected.
The recovery following a Perlane® filler injection depends upon the areas injected, the number and amount of products injected. Other factors include the patient and age of the patient. Individuals who have not been taking aspirin or non-steroidal anti-inflammatories leading up to the procedure generally have minimal swelling. The blunt micro-tip cannula tends not to disrupt small vessels and veins that lead to bruising. Perlane side effects include a modest degree of swelling. Depending on the number of syringes and areas injected, most patients can return to work the next day. For large-volume injections and Perlane® lift treatments, it is recommended that patients take one to two days off prior to returning to work.
You can expect excellent results following your Perlane® injection. As our injection experts are highly qualified with many years of experience of soft tissue contouring, volume shaping, line and wrinkle management.
Perlane injection patient before and after. To correct loss of volume and deflation this patient was injected with Perlane. Patient also received Botox Injectable for over animated facial muscles and fine lines.
What are patients saying about their Perlane® injection at SpaMedica?
SpaMedica soft tissue injection patients are generally very happy. SpaMedica has been injecting soft tissue fillers and Perlane for well over 10 years. Most of the SpaMedica injection experts have more than 10 years of experience.  Over 85% of all soft tissue filler injection patients return to SpaMedica. They know they are receiving the artistry and expertise that leaves their face looking natural and attractive. Rather than looking over-injected and thus avoiding the dreaded "filler face". You can find Perlane® injection centres anywhere, but very few, if any, have the overall artistry and expertise of SpaMedica.
How long does Perlane® last?
Depending on the product used, the results of Perlane® injection may last up to 1-2 years. Perlane® is the longest-lasting Restylane® product and is often used for moderate volume shaping of the face and volumization of deflated areas. In general, most patients get volume shaping once a year. They return for re-injection every 12 to 14 months to maintain the optimal soft tissue proportion, shape and smoothness.
Is there any maintenance required?
Soft tissue fillers and facial shape and proportion in general are a temporary thing. As we age, there are enzymes that break down our collagen, elastin as well as the hyaluronic acid sugar gels. Hyaluronidases are a natural degradation sugar enzymes inside our bodies and cells that break down the Perlane® product over time. Most patients who enjoy nice post-soft tissue Perlane® results will return once a year or year-and-a-half for volumization and restoration. Highly-animated areas, such as the lips, tend not to last as long as unanimated areas. As such, you may require a lip enhancement every six to nine months.
At SpaMedica, generally the injection procedures are charged by the syringe. Perlane® starts at approximately $599 a syringe, however, the more syringes you inject, the less you pay per syringe. At SpaMedica, as one of Canada's highest-volume injection centres, we're able to procure excellent pricing from manufacturers. We pass this opportunity on to our valued soft tissue injection and Perlane® clients.
By choosing SpaMedica's team of expert injectors and Dr. Mulholland, you will be receiving your Perlane filler from highly-trained and experienced injection artists. Some of Canada's most experienced, highly-trained and aesthetically aware injection specialists work here at SpaMedica. You will avoid the dreaded "filler face" and achieve a very natural-appearing facial aesthetic restoration and rejuvenation. Pioneered by Dr. Mulholland, the micro-cannula technique is the safest injection methodology.  It minimizes the risk of the injection needle getting inside a vascular structure and getting some of the product into dangerous areas of the skin or face. As such you can expect the safest possible treatment.
To schedule a consultation for your Perlane filler, simply call 877-712-8367 or fill out the consultation request form. A SpaMedica customer service representative will respond promptly to schedule your consultation. Patients will need to upload up to 3 photos for Dr. Mulholland to review. At SpaMedica, as part of its injection safety protocol, all first-time soft tissue Perlane® Toronto injection patients are seen by a physician. During which, the risks and benefits are discussed. Following your meeting with the physician, you may have your injection performed by Dr. Mulholland himself or one of SpaMedica's Perlane injection specialists.